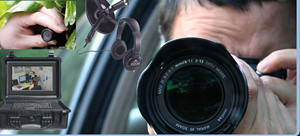 How Do Our Security Surveillance Services Operate?
Kimmons Investigative Services, Inc. maintains state of the art surveillance vans. These vans have been outfitted with covert periscopes and video cameras which are self contained for nonstop surveillance. For an in-depth tour of our vans, see an article from the Houston Chronicle.
Kimmons has highly qualified and experienced surveillance investigators. Surveillance can be useful in domestic disputes, injury cases, employee theft, drugs in the work place, labor disputes, demonstrations, etc.
Kimmons Investigative Services, Inc. provides Covert Security Surveillance Services.