Security Alarms & Security Camera Installation
Camera Installation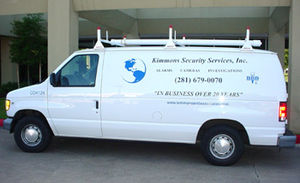 Kimmons Investigative Services, Inc. uses state of the art Digital Video Camera Systems. Our technicians install both covert (hidden applications) and overt (standard security camera systems) systems. These camera systems can include:
High resolution cameras and digital recording equipment.
Remote access systems, including internet access applications.
Completely covert systems for employee theft applications.
Motion detection capabilities.
Customized installations to satisfy specific client needs.
Affordable and all-inclusive maintenance contracts.
*Service and dependability is backed by a firm operating for over 21 years!
Camera Leasing
If a client wants to lease a Commercial Grade Digital Camera System for a small business, it can be as little as $375.00 per month (36 month contract required). The systems have storage capability of approximately 30 days, remote access software, and excellent digital quality. (Average installation cost is $650.00.)
Kimmons' Camera and Alarm Installation Division is eager to bid on camera jobs of any size.
See Our Cameras In Action. Kimmons Investigative Services' Digital Video Security Systems have been featured in the news, helping to capture an escaped thief, convicted of stealing from Houston-area businesses. Houston CBS Affiliate KHOU Channel 11 News' To Catch An Escaped Thief…On Camera.
You can also see Kimmons's Digital Video Live Feed from a Florida resort.
Alarm Installation
Our Company provides commercial alarm systems such as MUD sites, city buildings, manufacturing plants, etc.